Description
"An inspirational story of overcoming the most extreme adversity to achieve so much in creating a better world" – David Holmgren

"A compelling life story of overcoming adversity, beautifully told." – Rosie Batty, 2015 Australian of the Year
Glen wrote her autobiography in her final year of life while struggling with pancreatic cancer. It tells of her childhood of poverty and abuse, when she found a deep spiritual connection in the bush. Through tragedies and years of single parenthood, Glen retained her faith in Mother Earth and went on to study social work. She forged new ways of working with marginalised groups at the Brotherhood of St Laurence and helped set up refuges for women, all the while maintaining her enthusiasm for life and her own brand of practical feminism.
Child of the Earth lays out the foundations of Glen's teachings built on the deep wisdom she began to develop from an early age when she found solace under her favourite tree deep in the bush. We seek to take this book into the world to share Glen's story and inspire new ways of living and working together.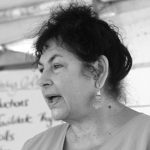 Glen Ochre
 was recognised as one of Australia's best and most experienced facilitators. She specialised in collaborative processes for organisations and groups, working in a vast range of settings and with a wide diversity of issues. She developed a core body of processes and tools for facilitating transformation in groups. Glen was one of the founding members of
Commonground
, an intentional community and venue for social change groups. She began consulting and training in 1983 and initiated the
Groupwork Institute
in 2000 to provide facilitation training for the next generation. Glen passed away in May 2014 after a 15 month wrestle with pancreatic cancer.
See Glen's titles here.