Description
Internationally acclaimed facilitator, educator and social change practitioner Robin Clayfield brings her permaculture classic to life in it's 3rd edition.
Beginning with the foundations of permaculture, Robin explores how the principles of permaculture can be applied in the kitchen. This book integrates the thinking behind the permaculture concept with the practicalities of making it happen.
Taking the next step, the book explores how to make use of the abundance that permaculture gardens can offer. How to prepare delicious food for 4 to 40 people, with hundreds of mostly vegetarian recipes for people (and plants).
With varied topics including: edible flowers, healthy food, weeds and abundant plants, garden cosmetics, companion planting, bush tucker, kitchen crafts, garden gifts and income earners. PLUS garden designs, species lists, tips, exercises and after dinner games.
It's an all-in-one, timeless book. A must-have reference for anyone who wants to make the most of their garden.
---
About the author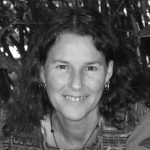 Since 1990
Robin Clayfield
has been facilitating and creating one and two week intensive residential courses, training teachers, guiding women's weekends, designing and leading empowerment and visioning sessions, presenting at conferences and festivals, as well as living, working and sharing with others in community – all in a spirit of empowerment, creativity, joy and holistic growth and learning. She is the author of two books, two card games, several kits and resources for groups and facilitators as well as a
CD
of guided visualisations set to music. She is co-author of several resources including the well recognised
Manual For Teaching Permaculture Creatively
. She is currently working on a series of five books documenting her 'Dynamic Groups, Dynamic Learning' methods and practise. See more of her work at the website
Dynamic Groups
.
See her titles here.